'Vintage Van Gogh' grilled cheese sandwich
(Read article summary)
An unexpected discovery of two unusual cheeses stretches the imagination.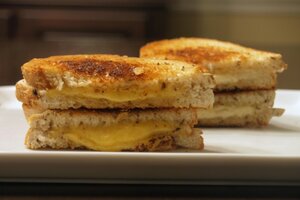 Grilled Shane
Recently, I traveled to Whole Foods to see if they had any type of potato bread (mix, fresh, not fresh) to turn this awesome Daily Spud recipe into a grilled cheese. Instead I stumbled on Whole Foods' "cheese remnant" section (which I had thought they discontinued) where I found two cheeses I had never heard of: 'Vintage Van Gogh' and 'Black Pepper Bellavitano.' From there, I decided to make two simple, quick grilled cheese sandwiches featuring these cheeses and the onion rye bread I had sitting at home. Such a great idea. Since everyone is probably most intrigued by the Vintage Van Gogh, I will start with the Satori Black Pepper Bellavitano.
"A creamy Cheddar-style cheese with a unique Parmesan taste – coated in cracked black peppercorns. American Cheese Society winner in 2009!" (Cow's Milk/Pasteurized) (Whole Foods Cheese Display)
After tasting this most definitely yummy cheese, I looked back at my rudimentary photo of the display accompanying the Bellavitano. Whole Foods description is 100% spot on. The Black Pepper Bellavitano has the creaminess of a fantastic Cheddar with the bite of a Parmesan (and black peppers). A great combination in my opinion. If you like mild cheese, this particular variety is not for you. However, if you enjoy a cheese that is not timid and most definitely out front, you should get in your car right now and drive to your local Whole Foods.
---