What happened to my cookies?
(Read article summary)
Deconstructing a Snickerdoodle recipe to avoid pitfalls and achieve the perfect cookie.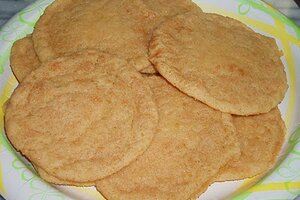 The Pastry Chef's Baking
The greatest enjoyment I get from writing my blog is being able to share the recipes I've tried, how they turned out, what I think of them and what, if anything, I would suggest to make them better. It absolutely makes my day when someone tries a recipe I've blogged about and enjoyed it for themselves. It also absolutely distresses me when someone tells me they tried something but "it didn't turn out" like mine. For the longest time, I just didn't get it. I posted the exact same recipe I followed, I talked about what I did and, depending on the recipe, what mistakes I made that people shouldn't do so they can avoid the problems I had with something and make theirs better than mine.
In trying to do an autopsy, so to speak, on my friends' and relatives' baking mishaps, I started to ask more detailed questions to get to the root causes of the problems: What ingredients did you use? How long did you bake it? What did it look like when you took it out of the oven? What did your batter or dough look like? What pan did you use? Did you preheat the oven? The varying answers I got made something really clear to me: it's not just about the recipe, it's also about the technique. I've blogged before about some simple baking tips so I won't repeat those here. But I will add further to the list and, for this post, in the context of cookie making.
Some weeks ago, my friend Karen was baking batch after batch of cookies but was dissatisfied with her results as they weren't coming out the way she wanted them to. In making chocolate chip cookies, the different recipes she tried either weren't spreading like she wanted or they were too dry. The dryness was easy to remedy as I discovered she was baking them until the middles were done. Oh no. For chocolate chip cookies and anything of their texture, bake until the edges are done and the middles are just barely not doughy-looking anymore. They might puff during baking but you want the middles to sink when they cool. That'll give them their chewy and moist texture. If you bake until the middles are done, the cookies will be dry. So that solved the problem of the chocolate chip cookie. In Karen's own words, "oh the middles are supposed to sink!" Yep, that's right.
---