Tomato chutney
(Read article summary)
Spread tomato chutney on sandwiches or top slices of cheese with a dollop.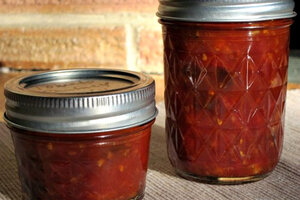 The Rowdy Chowgirl
Some years I have a bumper crop of tomatoes, growing in a tangle of vines straight up their eight-foot trellis to touch the eaves on the south side of my house. The summer heat radiates off the bricks and bathes the tomatoes hanging in heavy clusters of red, orange, and yellow. The scent envelops me as I walk by, earthy and green and fecund. I gather baskets of them, and make sauces and sandwiches and give the rest away to friends.
Other years, like this one, the thin vines seem to shiver all of the cold, damp summer. I wait anxiously for a few ripe tomatoes in late August or early September. But whether a bumper year or a disappointing one, there are always plenty of green tomatoes left on the vines when the chill of late fall hits.
I gather these late bloomers and bring them inside before the first frost. They aren't as juicy or fragrant as those that ripened on the vine, but they are still better than supermarket tomatoes. I have to keep an eye on them, because there are always a few that, in spite of a nurturing environment, good companionship, and benevolent oversight, go bad and threaten to take the rest with them. These must be firmly and swiftly dealt with.
Maybe you also have the summer's last tomatoes, still slowly ripening on your kitchen counter. And maybe, like mine, they refuse to ripen in orderly twos or threes, but rather in bunches that threaten to overwhelm your ingenuity.
This chutney is the perfect answer to the tomato problem. It is a beautiful, deep garnet color that just cries out for you to taste a spoonful. And when you do, it is sweet and spicy and sour and salty all at once. It has a definite fiery kick from the cayenne, which brings back a bit of summer in every bite. I've been spreading it on sandwiches and topping slices of cheese with a dollop. It would not go amiss alongside roasted chicken either.
---