A goat is a chef's best friend
(Read article summary)
Fairmont Hotels incorporate 'farm connections' to bring fresh, local tastes to their customers.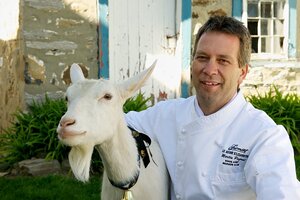 Courtesy of Fairmont Hotels
While the rise of urban farming is prompting even city dwellers to raise their own tomatoes and chickens, chefs are also bringing the source of the dishes they create ever closer to their kitchens. And sometimes that means a personal bond between an executive chef and a goat.
Fairmont Newport Beach in California has adopted seven goats – Suzy Q, Snickers, Frankie, Lucy, Cali, Trixie and Taffy – as part of its focus on sustainability and local foods. In collaboration with local Drake Farms Goat Dairy, where the milk-producing goats actually live, the animals are cared for by dedicated farmers and staff and receive regular visits from the hotel's executive chef Chad Blunston. With its team of goats, Drake Farms produces the organic goat cheese that Chef Blunston uses in his creations for hotel guests.
Fairmont Newport Beach follows in the footsteps of Fairmont The Queen Elizabeth in Montreal, which adopted one goat, affectionately named Blanche Neige (Snow White, pictured above), last year. A registered "show goat" with an impressive pedigree, Blanche Neige was adopted from the local Fromagerie du Vieux St-François, where she still lives. Blanche Neige is a Saanen goat, a breed from the Saanen Valley of Switzerland. She produces cheese for the menu at The Beaver Club, as well as for sale at the Fairmont Store.
---