Stocking up the baker's pantry
(Read article summary)
Planning ahead can help eliminate cooking-related stress over the holidays.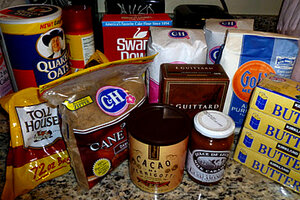 The Pastry Chef's Baking
Thanksgiving is almost here! Despite my passion for all things Christmas, Thanksgiving is actually my favorite holiday, bar none. It honors gratitude and if you're very fortunate, gets your friends and family together for celebration and formally remembering to give thanks for all of our blessings. I love this time of year. It can be stressful if you let it because of all the myriad of things involved in holiday celebrations but to me, if I get stressed over the holidays, I'm missing the point of them and the true spirit of celebrating them.

One thing I've learned over the years is to minimize the usual stress. This can be done by planning ahead. As any Type A personality can tell you, there's much you can do to manage a long to-do list by thinking through what you truly need to do (as opposed to the want-to-get-done list) and giving yourself enough lead time to accomplish it. Interspersed with baking posts over the next month, I hope to also put up some tips and tricks for getting through the holidays stress-free. Ironically though, I'm late in putting up this kind of post since it's been so busy but that doesn't mean I haven't been preparing, just that I haven't written about it.

First up for any baker: Stock your pantry early. The last thing you want is to be in a frenzy, baking for a family celebration, hosting a dinner party, attending a holiday party, going to a company potluck, etc., and realize you're out of a critical ingredient. If you're truly organized, you'd plan ahead what you want to cook and/or bake, make out an ingredient list and buy everything ahead of time. If you're the more normal kind of person never fear, you don't have to be that far-thinking. But you can and should stock up on some staples. Here is what the typical baker should always have on hand for marathon baking sessions well ahead of time – these are what I consider the "base staples":
Unsalted butter (Costco has them the cheapest in my area in four 1-lb. packs)
Large or extra large eggs
All-purpose flour
Granulated sugar
Brown sugar (light and dark)
Powdered sugar
Baking powder
Baking soda
Salt
Vanilla extract (I buy this in "bulk" here)
Cake flour
Unsweetened baking chocolate
Bittersweet or semisweet baking chocolate
Unsweetened cocoa powder (I like Pernigotti from Williams Sonoma)
Chocolate chips (semisweet, milk, white, mini, chunks – your choice)
---
Follow Stories Like This
Get the Monitor stories you care about delivered to your inbox.