Thanksgiving grilled cheese sandwich
(Read article summary)
Butternut squash and cranberry orange chèvre on pumpkin bread.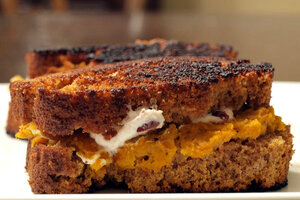 Grilled Shane
I have only created one Thanksgiving grilled cheese sandwich in the three plus years of this blog. I wanted to change that this year. After my 2009 creation, Pumpkin Pie Grilled Cheese, I had a lot to live up to. I had to make this sandwich bigger and better. I had to think far outside the box. I had to push myself. I think I succeeded but you must be the judge…
Ingredients for butternut squash & cranberry orange chevre pumpkin bread grilled cheese…
Spiced Butternut Squash
Mackenzie Creamery Cranberry Orange Chèvre
Pillsbury Quick Bread Pumpkin Bread
The cheese: mackenzie creamery cranberry orange chèvre
After trying Mackenzie's Toasted Pumpkin Chèvre, I thought, why not try another Mackenzie original for this year's Thanksgiving grilled cheese sandwich? Cranberry Orange sounds, at least to me, very festive and Thanksgiving-like. It seemed like a perfect base for a Thanksgiving grilled cheese sandwich. Plus, it was 50 cents off at our local grocery store, Heinen's. Not a bad deal.
---