Meatless Monday: Rustic spinach salad with roasted red pepper
(Read article summary)
A crunchy, sweet, salty, sour, and spicy good-for-you salad.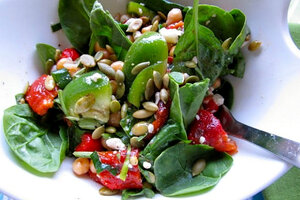 Beyond The Peel
There comes a time every year when it just makes sense to start freezing, canning and preserving all the great foods that are available to us. In this particular case, I've started by roasting peppers and freezing them. Of course there's always a few that make it into a meal instead of the freezer. It's such a great way to take advantage of not only the price of produce from your local farmer but also a great way of preserving natural goodness right into the winter.
What concerns me the most, because I'm lazy and love the taste of great food, is that I can have things like roasted peppers to make homemade romesco sauce with very little effort and time. I love reaching into the pantry or the freezer and throwing together an amazing meal by reaping the rewards of forward thinking.
Notice that I didn't say hard work. Thoughtful use of one's time today will save you hours tomorrow. Another example of this was that I poured boiling water over half a cup of chickpeas this morning, by late afternoon, the cooking time was reduced to a mere 30 minutes. Now, for those of us without a pressure cooker, that's pretty darn fast. The beauty of beans is the longer they soak, the less time they take to cook.
I know I also talk about the balance of sweet, salty, sour, and spicy from time to time, but I think it's important for people just starting out in the kitchen to be aware of these flavor combinations. Not only will it help you distinguish a great recipe but also help you create one. Not only will you notice the balance of sweet, salty, sour and spicy, but it will help you fix a recipe you've already made that is only so-so.
It's not always the recipes fault. Maybe Shelley Adams's lemons were juicier than mine. Maybe my salt is less salty than Bill's, Nigella's peppers hotter than yours, etc. It depends on so many factors.
So with your acceptance, I'd like to quickly go over some of the components of this recipe.
Most of my dressings include a little honey to balance out the acidity of the vinegar or lemon/ lime juice. You'll notice I've left it out of this recipe. Roasted red peppers would qualify as sweet, at least in my books. The peppers in this recipe will actually take the place of the honey.
---