Cookbook review: 'The Bonne Femme Cookbook'
(Read article summary)
Shrimp roasted with garlic, scallions, and tarragon atop French green lentils is just one of many quintessentially French meals in 'The Bonne Femme Cookbook' by Wini Moranville.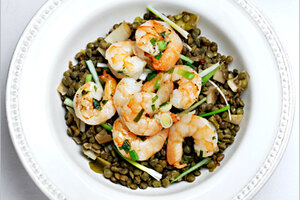 Blue Kitchen
For all the complex, multi-stepped recipes that give French cuisine its daunting reputation, everyday French home cooking is filled with countless utterly simple dishes as perfect and impressive in their own way as the hautest restaurant cuisine.
Wini Moranville's new book, "The Bonne Femme Cookbook: Simple, Splendid Food That French Women Cook Every Day," proves this with recipe after recipe. La bonne femme is French for "the good wife," the introduction tells us, but in French cuisine, "it refers to a style of cooking – namely, the fresh, honest, and simple cuisine served at home, no matter who does the actual cooking, femme, mari (husband), or partenaire domestique (significant other)."
Dorie Greenspan says, "It's les bonnes femmes who keep the culinary traditions of France alive. Cooking the simple classics and the daily meals that form the canon of the cuisine." And, she adds, "Wini has given us everything we need to do the same, whether our table is in Paris or Peoria."
Flipping through our review copy of "The Bonne Femme Cookbook," I could see exactly what Greenspan means. One recipe after another caught my eye, both as something wonderful to eat and something totally doable in the kitchen, honest and non-fussy. I've said in the past that if we get one really good recipe out of a cookbook, it's earned its place on our bookshelves. I can already tell that we'll be cooking many dishes from this one.
---