Meatless Monday: Festive couscous
(Read article summary)
A gorgeous, colorful dish that can be served as a side or main course.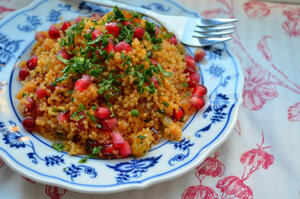 Three Many Cooks
One of my favorite cookbooks of all time is Nigella Lawson's, Christmas. I bought it about five years ago, right after I got married, when I was living in England. Mom, Dad and Sharon were coming for Christmas and I was equal parts ecstatic and terrified. I couldn't wait to have my family in my new home, but the thought of taking the lead on the big dinner made my palms sweat. I needed a holiday meal that was both foolproof and classically British. Who else to go to but Nigella Lawson? She didn't let me down. I use this book every year.
My mother-in-law was visiting this past weekend and sharing recipes with me that she used to make for the family during the holidays. I couldn't help but pull out Nigella's Christmas. She and I sat transfixed, on the edge of the bed, and looked through that book, page by page. It's simply gorgeous: festive and fun, but classic and warm. Nigella does a Christmas special on BBC every year that makes you want to crawl through the screen and join her in her cozy London home. This woman knows how to celebrate.
---