Pear and blue cheese bacon pizza
(Read article summary)
December is National Pear Month. Celebrate with a savory pear pizza as your main course.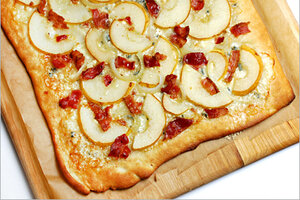 Blue Kitchen
December seems an odd month to honor any produce that isn't a root vegetable. At least that's what I thought until we recently attended a pear-focused luncheon at Chicago's Blackbird. The event was hosted by Pear Bureau Northwest as part of an eight-city tour aimed primarily at helping people understand how to tell when pears are ripe and ready to eat. More about that later.
We were treated to a four-course meal by Chef de Cuisine David Posey that showcased pears' versatility, from pear and butternut squash soup with blis char roe enrobed in stout foam to leg of lamb with roasted pears, maitake mushrooms and hearts of palm and, for dessert, warm beignets with butterscotch, spiced brittle, pears and maple ice cream. We were also treated to lively conversation between delicious bites, much of it about food, but only a little of it about pears. Still, we came away knowing a great deal about this popular fruit.
First, as we all try to eat more seasonally, the pears you see in the store now – or in January or well into the spring, for that matter – haven't been grown in Chile or some other far-flung spot. They're part of this fall's US harvest. Pears ripen best off the tree, so they're picked when mature, but not ripe, and kept in cold storage. While in cold storage, they don't ripen, but do continue to convert starches to sugar, improving their flavor as they essentially hibernate. Once they show up on your supermarket's non-refrigerated shelves, they begin to ripen.
---