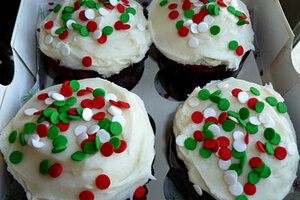 The Pastry Chef's Baking
'Tis the season of red velvet. I've been hankering for a new red-velvet-something recipe and this one fit the bill.
I got it from the King Arthur Flour holiday preview catalog as I'm on their mailing list and I like trying out their recipes. The downside of using one of their catalog recipes, however, is it almost always calls for an ingredient found only or mostly on their website – it is a product catalog for a reason. However, usually the more specialized ingredients are optional so I typically do without it or substitute something else. In this case, I used red food coloring for the "red velvet flavor" and skipped the cake enhancer.

I had the taste test cupcake while it was still warm from the oven and unfrosted. Almost needless to say, it was delicious. The texture was soft and it was moist. You almost can't not like a warm cupcake. The true taste test, however, is when the cupcake is at room temperature. It was still good but a bit more dense since I probably underbaked it slightly in my abhorrence of dry, overbaked cupcakes. I still haven't mastered the art of a perfect cupcake. I like the texture of Sprinkles cupcakes (their red velvet is one of my favorites, along with their banana, pumpkin, orange ... actually, I think I like all their flavors except the chocolate one) but mine don't come out as light in texture, no matter which recipe I try. I don't think it's necessarily the recipe but my timing on when I take the cupcakes out of the oven. Haven't conquered that trick yet.
---