Another kind of Yule log: Pork roast roulade
(Read article summary)
A main course for Christmas that doesn't require a lot of fussy side dishes.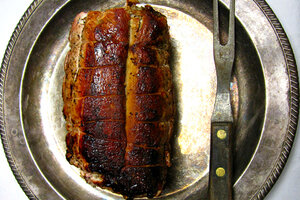 We Are Never Full
Some families love making meals for Christmas Day dinner that take hours to cook and include many courses or many side dishes. If that is your type of meal, then you may want to save this recipe for another time.
This dish is so flavorful and so easy to make. You know what makes it even better? It's a cost-effective. So chat with your butcher, and just ask him/her to butterfly that pork for you.
After you settle the pork roulade in the oven, grab a huge mug of egg nog, throw on some Johnny Mathis, and spend some time relaxing as you watch "A Christmas Story."
Pork roast roulade with sausage, pistachio, and chestnuts with cider gravy
Adapted from "When French Women" Cook by Madeline Kamman
Serves 4 to 6
---