Cherry orange loaf cake
(Read article summary)
Dried cherries, pecans and orange zest and juice flavor this not-too-sweet cake, perfect for a holiday breakfast or with coffee and tea.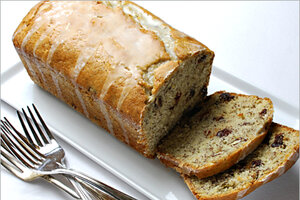 Blue Kitchen
I don't bake much. So I was more than a little surprised when my Hazelnut Rosemary Jam Cookies were featured in Bon Appétit's Blog Envy holiday showcase. And when I was invited to participate in 2009's Bon Appétit Blog Envy Bake-Off, an actual competition, I was flattered but less than inclined to give it a try.
There are some serious bakers out there in the blogosphere. We're talking pastry chef serious. I knew whatever simple efforts I came up with would not compete well in that arena. Then I remembered a story my grandmother told every December around the holidays, about a simple gift that meant so much to her as a little girl. Suddenly, winning wasn't as important as sharing a recipe inspired by that gift.
My maternal grandmother was a big part of my life growing up in St. Louis and embracing city living early on. She often took me downtown on the bus to go shopping, have lunch and maybe catch a movie matinee. But she had grown up on a farm, and I could tell from the stories she would tell with such longing that she missed farm life. I wrote about some of those stories last year and of the Christmas gift she looked forward to each year. An orange. That post resonated with a number of readers, bringing up similar stories and experiences. And thinking about all that, I realized that a dessert didn't need to be extravagant or architecturally exuberant to add some sweetness to the season.
---