Chewy fudgy triple chocolate brownies
(Read article summary)
Sometimes, all you want is just a really good brownie.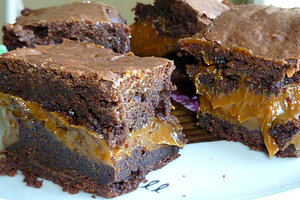 The Pastry Chef's Baking
This was the final thing that went into the care package I sent out last weekend. It's from Cook's Country Chocolate Desserts because I'm like a kid with a new toy when I get a new baking book. It's all I want to play with and make recipes from. The picture in the booklet led me to try these because the brownies looked so dark and fudgy.
I added a layer of dulce de leche in the middle to jazz it up a bit. This was a dark chocolate brownie so I thought the dulce de leche would give it a nice sweetness contrast. For the most part, it worked. The brownies were dark chocolate fudgy goodness and would probably have been fine as is if you want an indulgent chocolate treat.
The dulce de leche also worked although I would probably use half the amount next time so it's more a ribbon of sweetness than a competing layer. It made slicing a little messy. Fortunately the dulce de leche layer was in the middle rather than on top so it was still doable to packaged them up in plastic wrap (2 squares to a package) and put them in the care package.
Chewy Fudgy Triple Chocolate Brownies
From Cook's Country Chocolate Desserts
5 ounces bittersweet or semisweet chocolate, chopped
2 ounces unsweetened chocolate, chopped
8 tablespoons unsalted butter, cut into 4 pieces
3 tablespoons cocoa
3 large eggs
1-1/4 cups (8-3/4 ounces) sugar
2 teaspoons vanilla extract
1/2 teaspoon salt
1 cup (5 ounces) all-purpose flour
---