Got Soup? Recipes to ward off the chill.
(Read article summary)
Check out our ever-growing list of delicious soup recipes.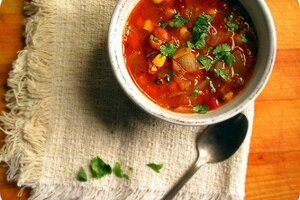 In Praise of Leftovers
Baby, it's cold outside! Nothing will warm you up faster than some fresh, homemade soup. Soups you make yourself definitely beat opening a can. You'll have a feeling of accomplishment and can freeze whatever you don't eat up right away for a handy lunch or dinner down the road. Or, you can set up a "soup swap" with a group friends and share your makings so you have a variety of homemade soups filling your 'fridge.
Here are a few ideas to get you started.
Soup Recipes
A lovely Thai soup that intermingles lemony, spicy, and creamy flavors.
A quick, tasty, and good-for-you soup
Leftover celery teams up with chicken, carrots, tomato paste, and rice to become Minestra del Sedano, a satisfying meal in a bowl.
A quick, easy meal during the busy weekday rush.
A delicious broth is the key to this noodle and vegetable Asian soup.
A simple, quick meal that takes 5 minutes to put together so you can relax as it simmers.
A protein rich chickpea soup to warm up a rainy fall day.
Mulligatawny soup combines chicken, curry, vegetables, and cream for an Indian-inspired dish.
Tortilla soup is a one-dish recipe for an easy and healthy weeknight supper.
A delicious fall soup with a spicy curry kick.
Dress your chili up as a spicy crowd pleaser.
---