Whole braised chicken in a pot
(Read article summary)
A whole braised chicken can feed a crowd or just two on a quiet winter afternoon.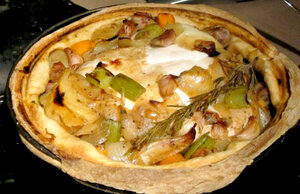 The Rowdy Chowgirl
It started snowing Saturday afternoon. The fat flakes were just enough to derange traffic and disrupt my plans to meet up with a friend for coffee. Instead, I spent the afternoon making marmalade, filling the house with steamy warmth and the scent of oranges.
The snow continued Sunday morning, a thin blanket over rooftops and cars, obscuring the view of the lake, and stilling the sounds of the city. The kitten watched the snow fall outside the window, at first trying to move his head fast enough to capture all of the enticing motion of dancing, drifting flakes. Finally, he settled for a fixed and unwinking stare.
We bundled up and walked around the quiet, snow-dusted neighborhood, crunching on the thin layer of white underfoot, then returned to cuddle up under a blanket on the couch.
It doesn't snow often in Seattle, but when it does it is best to give in gracefully and really have a snow day. Pare away any unnecessary errands or chores. Remember what is urgent and what is not. Use a bit of the extra time to cook something that takes a little longer than usual – something savory that will simmer or braise gently all the long, grey afternoon, filling the house with the promise of a hot, hearty dinner. Get a hot cup of tea or cocoa and a blanket and a book. Retreat to the couch. If an unscheduled nap happens while dinner is in the oven, all the better.
This whole braised chicken makes a good dinner party dish, but is also just right for a long winter afternoon when you have nothing special planned. The dough seal keeps the steam inside the pot, gently braising the chicken to an amazing degree of tenderness. The potatoes, carrots, and celery are traditional accompaniments for a Sunday roast, but here they are infused with the aroma of herbs and garlic. And there is plenty of garlic, but it is not overpowering, as the whole cloves cook in their skins and become sweet and caramelized. Serve with French bread, so that you can pop the garlic cloves out of their jackets and smear them all over the bread.
---