Cheddar corn chowder
(Read article summary)
Corn chowder seasoned with bright tumeric will bring a sunny note to a dark and chilly night.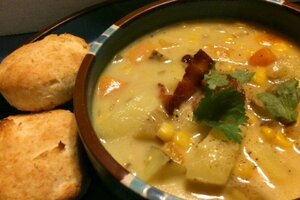 Kitchen Report
About this time of year I miss seeing more of the sun's face. Although I was delighted to notice this week that the 5 p.m. sky, instead of being an inky black, was more of a dark cerulean blue. Longer days are slowly creeping back.
I have a wooden Swedish star light on my windowsill that is timed to click on each evening and turn off as I get settled in between flannel sheets. It's the only Christmas ornament that I allow to overstay the holiday season. I still need a bright spot to look forward to long after the festival of lights has ended.
That's why cheddar corn chowder seasoned with tumeric is the perfect bright! and sunny! soup for a cold and dark winter twilight. I had spotted a recipe for it on The Food Channel (not the Food Network, The Food Channel is a great Web-based cooking resource with lots of ideas and how-to videos). I adapted their recipe for cheddar corn chowder quite a lot. Theirs fed 10 (!), I eliminated some of the fats (oil and butter?), and added garlic, sweet orange pepper, and fresh cilantro for flavor and color.
---