Jan. 27 is National Chocolate Cake Day
(Read article summary)
Celebrate National Chocolate Cake Day with a simple chocolate sheet cake.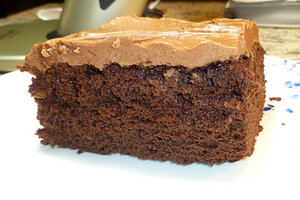 The Pastry Chef's Baking
January 27 is National Chocolate Cake Day so of course, I have to post a chocolate cake recipe. Last year, I had posted the Mexican Chocolate Fudge Pecan Cake which is one of my favorite chocolate cake recipes. This year, I tried out this "Simple Chocolate Sheet Cake." True to its word, it actually is pretty simple, especially if you need a quick and easy recipe for a crowd-pleaser, upcoming Super Bowl party, family picnic, classroom treat, etc. Because it's made as a sheet cake, this is easy to make, there's no muss or fuss to cut up and serve and it tastes pretty good.

I did modify the directions a bit, mostly in how to make the frosting. The original recipe calls for making it like a typical ganache where you chop the chocolate fine, heat the cream, pour the cream over the chopped chocolate and whisk until the chocolate is all melted and smooth. Unfortunately, I find this method imprecise. My chocolate doesn't always melt and I'm left with little bits while the cream has already cooled. Instead, I advocate melting the chocolate first, heating the cream, then whisking the two together. The chocolate will seem to seize at first but keep whisking and it'll smooth out. Or, if you want to play it safe and go with the more traditional method of making ganache, if your chocolate doesn't completely melt with the addition of the hot cream, you can always strain it smooth. But I prefer the other method and save myself the straining.

I liked the flavor and texture of this cake – it was as a good chocolate cake should be. However, be sure to use a dark, high quality, unsweetened cocoa – the grocery store/generic brand won't cut it for flavor. I use Pernigotti but you can also use Scharffenberger, Valrhona, etc. You can taste the chocolate flavor from the cocoa in this cake so don't cheat yourself by using anything less than the good stuff. As for the frosting, it came out with a really silky-smooth texture. I myself am not a frosting lover so to me it was "OK," but I wasn't in love with it. It's soft and spreadable when you first make it but it does cool into a firm consistency. Not firm like a pure fudge layer but it won't be spreadable anymore after it's cooled. Because it's a milk chocolate frosting, it makes a nice contrast to the dark chocolate cake. And of course, use high quality milk chocolate in the frosting; you won't be sorry.
---