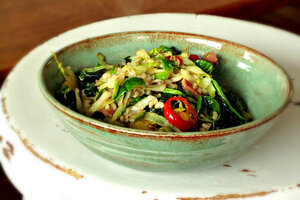 In Praise of Leftovers
My wok will be 2 years old in April. I am pathetically keeping track, since 2 years is supposed to be the time when an often-used wok is finally seasoned perfectly. Sometimes I get it out, set it on the cook top, and just look at it. It's getting so wonderfully burnished and banged up. And, more importantly, absolutely nothing is sticking to its surface.
I talked here about wok love and about Grace Young's book, "The Breath of a Wok." What I'd add this time around is the following:
If I'm making an Asian stir fry, I use vegetable or peanut oil. More and more, though, I'm using olive oil and getting very far away from traditional Asian combinations. The "recipe" here is an example.
I've gotten discouraged a couple times when, just when my wok seemed to be developing the longed-for patina, it all disappeared because of enthusiastic vinegar use, wok cooking naiveté, or other mysterious reasons. My admonishment is: Keep Going! The only way to really wreck a wok (say that 5 times fast) is to let it get rusty with standing water or to not use it. Continued use, even if it takes you 5 years, will pay off.
It's really hard to experience what I'm talking about here if you have an electric cook top. Woks need raging heat.
And, wok cooking is a fabulous way to eat more vegetables in one sitting than you ever thought possible. The stir fry here is 80 percent cabbage, kale and Brussels sprouts, with just a handful of cold brown rice thrown in at the end. That description sounds depressing, but it was delicious. And made my fiber and Vitamin A off-the-charts that day.
---