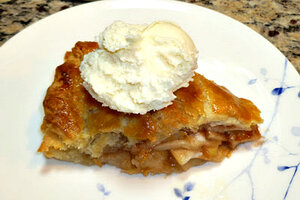 The Pastry Chef's Baking
Did you know February is National Pie Month? Just thought I'd mention it so you don't think February is just about the Super Bowl and Valentine's Day. The pie deserves some love too. Many people love pies and I'm no exception. Except for me, the only pie in the world is apple pie. Sure, there's pecan pie and chocolate pie (which I'll never eat again after watching "The Help"), coconut custard pie, etc., and those are well and good, too.
But for fruit pies, only apple does it for me. With ice cream. Not whipped cream but ice cream. I don't like whipped cream. To me, whipped cream is flavored air with calories. Plus, if something is going to look like ice cream, it should be ice cream. And with apple pie, it can only be vanilla ice cream.
My sister and her boyfriend went to the Pie Festival in Pie Town, New Mexico, last year and brought me back the cookbook that all the pie festival participants contributed to, sharing their prize-winning recipes. You can tell they're probably a bunch of pie experts as, on some of the recipes, the directions are alarmingly vague: "mix ingredients together as you would any pie crust."
---