Mardi Gras jambalaya or Cajun gumbo?
(Read article summary)
Their differences are slight, both are perfect for celebrating Mardi Gras Lousiana-style. This duck and andouille sausage gumbo is comfort food with a Creole/Cajun kick.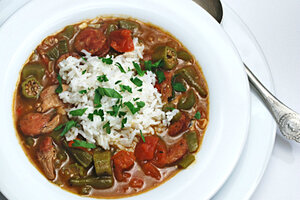 Blue Kitchen
I frequently email myself food ideas when I come across them, as inspiration for future posts here. Often, these emails will include a link to the article or restaurant review or whatever got me thinking about cooking something. Not so with the email whose subject line read "duck gumbo?" The entire contents of the email read "try some."
Undaunted, I turned to Google. Then I was daunted. Almost all recipes called for multiple whole ducks. One called for five or six, which were to be covered with water in a pot. Who owns a pot that big? I couldn't help but picture a big galvanized wash tub sitting atop all four burners on the stove.
Still, with the arrival of Mardi Gras and the flavors of duck and andouille sausage stuck in my head, I knew I had to make something work. If you're an even semi-regular reader here, you know we love duck. And how can you go wrong with andouille, the spicy, smoky pork sausage created by the French and co-opted by Louisiana Cajuns?
Gumbo is a hearty soup or stew long tied to Louisiana and traditional Mardi Gras celebrations. It usually contains some combination of poultry, seafood, meat and sausage in a spice-rich broth that may be thickened with a roux or okra or both. Aromatic vegetables like onion, celery, bell peppers and garlic add to its big flavor. Gumbo is simmered for hours (I found cooking times from a leisurely nine hours to a strangely precise two hours, five minutes) and served with cooked rice.
There are both Cajun and Creole versions of gumbo as well as others, with considerable overlap in the recipes. My own version is something of a mutt – hence the hedged bets in the subhead above. Marion points out that nearly all cultures have some sort of long-cooked soup or stew as part of their heritage, but none is like gumbo.
---