Slow cooker recipe: French-country chicken with olives
(Read article summary)
Slow cooker success! This recipe was so tasty, it could be dinner party fare.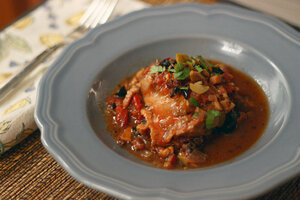 Whipped, The Blog
I have always romanced the idea of make-ahead, slow cooker meals but I rarely pull out my old crock pot and make them happen. A few months ago, I received the cookbook, "The 150 Best Slow Cooker Recipes" by Judith Finlayson and I imagined a weekly, large batch recipe that would create plentiful leftovers.
As I flipped through the pages, I was initially itched by a few irritations. Many of the recipes require some advanced work on the stove top before the slow cooking portion of the preparation begins. In my mind, a slow cooker success meant that you simply dumped everything in the pot before work, turned it on and came home to an aroma-filled house and a delicious meal. I was also irked by the dessert section.The idea of making things like cakes in a slow cooker bothered me. It feels more like a gimmick than a good idea.
Over the past few weeks, I continued to flip through the cookbook and mark pages. After analyzing my grumpiness, I realized that although bean soups work well with a simple "dump and cook" method, a bit of extra effort might be required to create dishes with more variety and complexity. After all, it is a slow cooker, not a magic meal maker. Though I prefer to make cakes in ovens, a crock pot Pineapple Upside-Down Cake might be an awesome option for a college kid in a dorm room or for those without access to ovens? I cast aside my prejudices and tested my first recipe.
The French-Country Chicken with Olives did require some advance work. I went home at lunch one day, prepared the sauce and left the chicken thighs swimming in the delicious flavors all afternoon. Upon returning from work, I was greeted by an alluring, comforting aroma. The chicken thighs were tender and the meat easily pulled off the bone carrying chunks of olives and tomatoes with it. The sauce was perfectly suited for the crusty baguette that I served alongside. The overall satisfaction of the dish erased any concern for the upfront preparation.
This recipe was so tasty, I schemed up a dinner party menu around it. Though I have yet to host the gathering, this chicken would be a nice course after a tummy-warming soup and before some cheese and dessert. And the best part, it can all be made ahead and ready to serve!
---