A hearty late winter meal with a hint of spring
(Read article summary)
Lamb meatballs, peas, carrots, and potato wedges, all flavored with fresh thyme, satisfy in winter, taste like spring.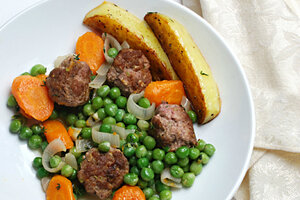 Blue Kitchen
This week's recipe was born of disaster. I spent much of Sunday afternoon in the kitchen, filling it – and the entire apartment, in fact – with heavenly smells, if I say so myself. The taste of the finished dish delivered on the aroma, and the dish was acceptably photogenic. Sadly, it was also irreparably dry and chewy.
At moments like this, I sometimes question what I'm doing here in the food blogosphere.
But everything seems brighter and more hopeful in the morning, even in bad horror movies. Monday morning rolled around, and I decided I would figure something out. And I did. Inspiration came from a very different lamb meatball recipe, one for spiced lamb meatballs to be used as a pizza topping, in the current issue of Bon Appétit. As delicious as they sounded, I was in the mood for the thyme and fresh peas and carrots that had all figured into my unfortunate Sunday adventure. The dish as you see here pretty much formed itself in my head in a few minutes.
Lamb is eaten almost everywhere, as I pointed out in my Moroccan Lamb Chop. But often when I think about it, I remember tooling around the UK one summer with my brother and seeing sheep grazing in every churchyard, on every hillside … virtually anywhere grass was growing. It wasn't much of a stretch to see how the fresh peas and thyme would give the recipe a vaguely English flavor.
I recently made a Lancashire hotpot, a traditional English dish with lamb, potatoes and, yes, thyme. And almost exactly two years ago, I made a vaguely Irish lamb stew (also with thyme – I'm spotting a trend here). Those both call for chunks of stew meat that, in turn, call for long, slow cooking. As a result, flavors meld together into something hearty and soul satisfying, perfect for a cold winter's night.
Ground lamb, however, cooks quickly, and individual ingredients maintain their separate identities, even as they play nicely together. And while the lamb meatballs and potato wedges give this dish a stick-to-your-ribs quality, the sweetness of the peas and carrots and the fresh garden taste of the thyme offer a promise of spring. And considering its origins in disaster, it was really, really delicious.
---