Boxty: Irish Potato Cakes
(Read article summary)
Boxty is a classic Irish dish to celebrate with on St. Patrick's Day.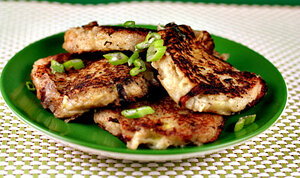 The Runaway Spoon
There was a pub I frequented when I was a graduate student in England. They did serve food, it wasn't gourmet, it wasn't even all that great, but they did have these potato cakes that I was very fond of. They were cheap and filling, which are two of the top criteria for any student's good food list.
It was only many years later, when I concerned myself primarily in recipe reading and research, that I came across boxty, and realized it was the same dish I'd eaten those years ago. I've since searched them out at pubs that do specialize in good food, and found the principle was pretty much the same.
My research revealed that boxty (pronounced bach-shtee) is a classic Irish dish. A potato cake made with mashed and grated potatoes, often using leftover mash and that last potato in the drawer. I follow the traditional method I've read in recipes over the years, but I add the bite of green onions, as is traditional in Champ, the classic Irish mashed potato dish.
And, as usual, I prefer the tang of buttermilk. Boxty aren't pretty, but they are tasty. The creamy mashed potatoes with the texture of the grated potatoes sets them apart from most other versions of potato cake. I honestly can't remember how they were served at that pub, but I have since had them as part of a "full English (or Irish)" breakfast, with bacon, sausage, tomatoes and egg all fried in the same pan. I love them with a good pat of butter melting on top, but they make an excellent side dish, and would be brilliant with corned beef and cabbage or soaking up the gravy from a stew.
Boxty Irish Potato Cakes
Makes 12 – 16
---