The Hunger Games: Katniss's favorite dish
(Read article summary)
When Katniss, the heroine of 'Hunger Games,' is brought to the Capitol, she is introduced to a decadent array of mouth-watering foods. Her most favorite dish is lamb stew with dried plums.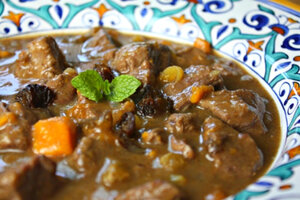 The Gourmand Mom
Anyone else bursting out of their skin with excitement for "The Hunger Games" movie? I can hardly wait! Honestly, I never would have even picked up the book, had my sister not bought it for me for my birthday. All I knew was that it was a "young adult" novel. And the last time I tried one of those (ahem, "Twilight") I couldn't bring myself to read past the first chapter.
But, "The Hunger Games" arrived in the mail, so as I sat on the couch feeding the baby, I cracked it open and read the first few pages. And then I sorely neglected my children for the rest of the afternoon, as I was incapable of putting the book down. "Shhh … Mommy's trying to read. You're 4 years old now … what do you mean you don't know how to cook yourself dinner? Go change your own diaper … Mommy's busy."
Not my proudest parenting moment, to say the least. But "The Hunger Games" is a page-turner, with a plot so barbaric that it's hard for me to believe it's written for "young adults." But then, so many of the books I read as a young adult had themes which took me years to grasp at more than a surface level. I think that's sort of the thing with "The Hunger Games."
The story has the perfect blend of ingredients: sacrifice, survival, heroism, romance, and moral conflict – making it instantly relatable and intriguing to all age groups. But there are also deeper themes about human nature, power, and human rights at work, the kinds of themes which take a bit more time and experience to fully digest. If you haven't read it yet, go buy it right now or load it to your Kindle or whatever it is that you do when you read. Stop reading this blog post, and go read "The Hunger Games"!
---