Nutella Rice Krispies Easter baskets
(Read article summary)
A holiday chocolate basket to hold all those mini Cadbury eggs.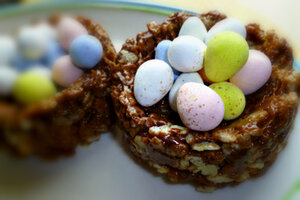 The Pastry Chef's Baking
Easter snuck on up me this year. Actually, all the special occasion days have: Pi Day (didn't make a pie), St Patrick's Day (didn't make anything green), Mardi Gras (no King Cake – OK, I probably wouldn't have made one anyway but still....), and so on.
It didn't help that we've had rain off and on for the past three weeks and it's been more winter than spring whereas winter was more spring than winter. So my seasonal timetables are all messed up. And now it's April. Yikes.
I am surfacing long enough to realize ahead of time that Easter is this Sunday. When I was a kid, we didn't do the whole Easter bunny/egg hunt thing at my house. Easter was more about Jesus and dressing a little more nicely on Easter Sunday in new spring clothes. As an adult, Easter is still about Jesus for me but I also enjoy a good chocolate egg here and there, primarily the Cadbury mini eggs with the hard shell coating and milk chocolate inside.
I also like the Cadbury caramel eggs with the liquid caramel inside a milk chocolate shell. Alas, however, I am indifferent at best, dislike at worst, all other Easter candy. The ones I'm indifferent to are all the candies you can get at any other holiday except at Easter, they're pastel colored and egg shaped. But Peeps? Oh no. They're marshmallows without Rice Krispies. And dyed marshmallows at that. Plus they come in weird shapes. I don't enjoy the visual of sinking my teeth into a gummy, stretchy, dyed bunny head or a baby chick; no real self-respecting bunny or chick would actually be any of those colors nor would I bite their heads off either. Sorry, Easter bunny, not in my kitchen.
---