Quick comfort: Meat and potatoes (and kale)
(Read article summary)
Nutrient-rich kale and turkey sausage give braised kale with potatoes and sausage a lighter, healthier touch without compromising 'comfort.'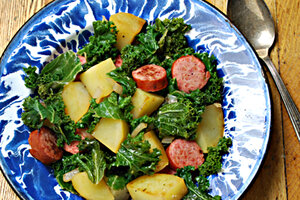 Blue Kitchen
Looking back over recent posts, I noticed a distinct lack of meat-and-potatoes, stick-to-your-ribs food. In fact, the entire month of March had somehow been, if not meat-free, then certainly meat light. So a return of seasonably chilly, windy weather had me thinking meat-and-potatoes comfort food. Happily, a big bunch of kale in the fridge gave me an idea for taking it in a healthy direction too.
Kale is a nutritional powerhouse. The winter vegetable is excellent source of vitamins A, C and K. Besides all that, it just tastes good. Milder than its relatives broccoli, cauliflower and cabbage, kale adds a pleasant bitter bite to dishes that plays well with – and stands up to – other big flavors.
I already had sausage in mind for this dish, and the kale made me decide to lighten that up a little too. I chose turkey kielbasa, lower in fat and calorie count. Another advantage of sausage, turkey or otherwise, is that its big flavor means you don't need a lot of it. I used 6 ounces for this dish that generously served two, with some leftovers.
And then there's the potato. It gets a bad rap, due in large part to it frequently being deep fried or served with mountains of butter and sour cream. But on its own, according to the World's Healthiest Foods website, the much maligned potato has a lot going for it. The site goes on to say that the potato's phytochemicals levels rival those in broccoli.
And the results? Satisfyingly meaty and potato-y, with plenty of greens to make it a complete one-pot meal. Nothing complex or delicate here (unless you count the nice little something added by the tarragon, a last minute decision). And uncomplicatedly delicious.
Braised Kale with Potatoes and Sausage
Generously serves 2, with possible leftovers
1/2 pound kale
1 pound potatoes, about 3 medium, peeled and cubed
olive oil
6 ounces kielbasa or smoked sausage, sliced into 1/2-inch coins
1 medium onion, chopped
2 cloves garlic, minced
1 teaspoon dried tarragon
salt and freshly ground pepper, to taste
2/3 cup reduced-sodium chicken broth
2/3 cup dry white wine [editor's note: substitute cooking wine or chicken broth of same amount]
---