Creamy macaroni and cheese with country ham and leeks
(Read article summary)
Once you master this basic recipe, you can alter it to your pleasing.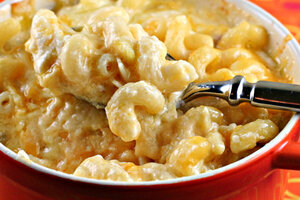 The Runaway Spoon
From the first time I made macaroni and cheese, I've used this basic recipe, with the sauce you simply stir up. We were not a big macaroni and cheese family, and never had any version from the box until college, when the hot pot was our main cooking apparatus and I had an ingenious roommate.
I think I might have originally found the recipe in a kids' cookbook, but I don't really remember. The recipe served me well for years, particularly in a poorly equipped kitchen in graduate school. And I just thought this was how mac and cheese was made. It was years before I learned that most macaroni and cheese recipes start with a roux made into a cream sauce.
As I progressed in the kitchen, I started working on recipes made with béchamel sauce, white wine based sauces, an onion soubise, exotic cheeses and the like. But for simple meals, I always came back to this method. And I've really decided I like it better. It's very creamy, very cheesy, and of course could not be simpler. So now I make it with cheese only, or flavorful add-ins.
This version is my favorite, and based on a macaroni and cheese served at a favorite restaurant. I am sure they use a great more expertise and skill in making it, but I manage to get the flavors I love spot-on. I like corkscrew-y cavatappi pasta, but regular macaroni, or shells, or farfalle work equally well. Once you have this simple, basic recipe down, you can alter it however you please – with different cheeses, added spices, bacon or roasted chicken … the possibilities are endless.
Creamy Macaroni and Cheese with Country Ham and Leeks
Serves 6, 8 as a side dish
4 leeks
6 tablespoons butter, divided
1/4 cup white wine [editor's note: substitute cooking wine or chicken broth of the same amount]
8 ounces uncookedelbow macaroni or cavatappi noodles
8 ounces sharp cheddar cheese
8 ounces white cheddar cheese
4 ounces fontina cheese
2 cups whole milk
1/4 cup flour
1/2 teaspoon garlic powder
Salt and ground black pepper to taste
8 ounces country ham, finely diced
---