Minted pesto and cooking with Mom
(Read article summary)
Special family connections happen in the tiny space of a kitchen.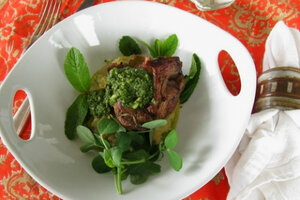 Beyond The Peel
My mom is visiting from California and she is one of the two women who have influenced my culinary life. France, my wife, is, of course, the other. The other day, after we'd been up at the mountain skiing all day, the three of us tag teamed a fantastic dinner: Lamb Chops with Minted Pesto with Mashed White Beans and Sweet Potatoes, and a Roasted Beet Spinach Salad.
Oh, the hardships of my life.
France came up with the idea for a minted pesto, which I'd never made before, and I was responsible for making it happen. A little of this and a little of that, toss it in the food processor, and bam, we had ourselves a delightful sauce to top off the lamb chops.
It's a real treat being able to spend time with my mom since we live so far away from each other. She, and most of my family, live in San Diego. It's a long ways from Vancouver Island and we don't get to see each other nearly as often as I'd like. It's even more special to be able to cook with her since I wasn't much of a cook growing up. Whenever, we get to cook together, I feel like I'm getting to know a side of her that I never fully knew all those years.
---