Chocolate sour cream layer cake
(Read article summary)
A moist chocolate cake with the right amount of sweetness.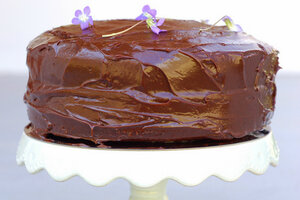 The Garden of Eating
Spring is birthday season in my family. My mom's, mine, my big brother's, my son's and my husband's birthday all fall within April and May. This means there is lots of cake baking and eating going on. Which brings me to this particularly delicious cake.
I found this recipe in Maida Heatter's Book of Great Desserts, given to me by my mom who is too busy to do much baking these days.
It's the only chocolate cake I've made since I discovered it last year (and I have made it a number of times). I love the moistness, the amount of sweetness (not overpowering), and the fact that it is wonderfully chocolate-y without being at all overwhelming. I also like that I can turn leftover sour cream into something so yummy when it might otherwise just sprout green mold while languishing in the back of our fridge.
So I got out the cake flour, chocolate, sugar, eggs, butter, sour cream, vanilla and more one early morning to make one for my mom's birthday. I like this cake enough that I have a semi-reverent approach to it. Which means that I do not cut any of the baking corners I might normally cut. For example, I bought cake flour instead of just using all-purpose like I normally would, and I dug out my adorable flour sifter that I've loved since I was a child (another hand-me-down from my mom) to actually sift the flour – something I almost never do. And I actually made the cake release of butter and fine bread crumbs as Maida instructed (though I'm not actually convinced it works any better than butter and flour).
About an hour later, two pans of chocolate cake were cooling on the counter and the house was filled with the smell of sheer happiness.
After everything cooled, it was time to frost those suckers. Unfortunately, I failed to read Maida's excellent instructions before I began so I ended up having to flip one of the layers after I'd frosted it already (a sticky situation, you might say) but I had enough frosting to make it all come out okay in the end. And now I'm pretty sure I'll never forget to FLIP THE BOTTOM LAYER UPSIDE DOWN BEFORE FROSTING IT again. It's brilliant advice – no need to mess with cutting layers flat – the weight of the cake on top presses it nice and flat.
---