Kentucky Derby bars for Cinco de Mayo
(Read article summary)
A touch of cinnamon and cayenne pepper meets a Kentucky Derby pie.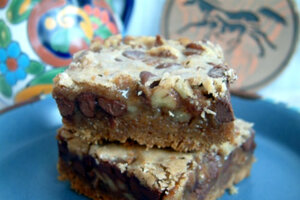 Kitchen Report
The Kentucky Derby in Louisville, Ky., falls on May 4-5 (aka Cinco de Mayo). I'm not really swept up in the culture around the Derby, even though my mom lived in Lexington for nearly two decades. In my most cynical moments, I can't understand the big to-do around a 2 minute race.
But I admit, I cried through "Seabiscuit," "Secretariat," and "War Horse." There is something about these majestic, beautiful, intelligent creatures in motion that stirs the human spirit, no matter how intellectual one becomes about the trappings and heartbreak of betting on a horse.
What I do love without question is Kentucky Derby Pie – gooey pecans and chocolate over a buttery crust and smothered in a dollop of fresh whipped cream. With the Derby falling on Cinco de Mayo this year, I got to thinking about the perfect marriage: Mexican chocolate and buttery pecans.
Unlikely companionship is a theme that runs through all horse stories – whether it is boy and not-yet-tamed horse, or an injured, combative horse and a reassuring goat friend, or a frail girl and a four-footed protector. These mismatched pairs make up the most profound friendships.
---