Strawberries and cream cookies
(Read article summary)
A delicate cream and sugar cookie to deliver the first flavors of spring.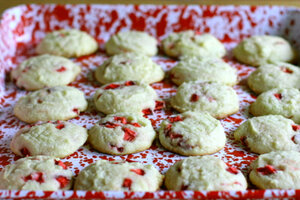 The Runaway Spoon
The spring obsession with strawberries continues. As the season settles in, I look for other ways to enjoy the little red jewels, as I have almost eaten my fill of them plain from the bowl I keep in the fridge, filled every week at the famers market. And so I turn to baking to find as many ways to enjoy them as possible.
My first and best experience with fresh strawberries and cream was in England, where it is a tradition in many venues. I had them at the interval during a cricket match, a game I do not understand at all, but could really get into because they stop for snacks. Scones, tea, and cucumber sandwiches were passed around at this picnic, then bowls of fresh berries, with a whisper of sugar and blanketed in cold, thick cream, tinged palest yellow it was so rich. I have never found the equal to English cream here. I think that is why so many rich, sweet desserts or fruits in England are preferred doused with plain cream – not whipped cream or ice cream, just a pour of fresh "double cream" as they call it.
That was my inspiration for these cookies. I wanted to create a cookie creamy and rich to envelope bursting bits of berry. Cream cheese gives that fluffy texture with a little bit of tang. Watch these cookies carefully and take them out of the oven just as they set on the top, then you will have a soft, moist cookie speckled with delicious bites of strawberry.
Strawberries and Cream Cookies
Makes about 3 dozen
2 cups hulled fresh strawberries
1 cup (2 sticks butter), at room temperature
8 ounces cream cheese, at room temperature
1 egg
1 teaspoon vanilla
2 cups sugar
3 cups all-purpose flour
1 teaspoon baking powder
1 teaspoon salt
---