Travel: Discovering Ponce, Puerto Rico
(Read article summary)
A culinary highlight was 'mamposteao,' a simple rice and bean side dish.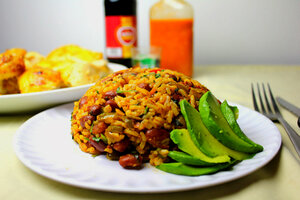 We Are Never Full
The southern city of Ponce, Puerto Rico is blessed with distinguished architecture. Named for the grandson of Puerto Rico's first governor, Ponce is a delightful surprise for the visitor and has few equals among cities in the Americas. The fact that conquering Americans were responsible for the preservation of the city's historic district is equally surprising.
Prior to defeat in the Spanish-American war, Ponce's status as an important industrial city in the Spanish Americas was secure. Built on sugar, coffee, rum and banking, and populated by a rash of European immigration, the Victorian era saw the city's burghers erect their ostentatious modernist-influenced palaces that now adorn Ponce's plazas and boulevards like so many gingerbread mansions. However, following the American conquest of the island, trade and investment was diverted through San Juan, while Ponce slowly diminished into the comparative poverty of a regional backwater. Happily, this allowed the city to avoid much of the ugly concrete blight of the island's capital, retaining its charming air of former opulence.
If the dining scene is more limited than in the heavily touristed parts of Puerto Rico, plenty of good food is still to be found in Ponce, and it feels distinctly more authentic because of the restaurateur's imperative to cater to the palettes and wallets of the locals. From the delicious helados at King Ice Cream (go for the maiz/yellow corn topped with powdered cinnamon) to the traditional homemade dishes synonymous with La Casa de las Tias to the variety of frituras available at the myriad snack bars lining La Plaza del Mercado, there is as much to delight the taste buds as there is for those with an appetite for culture.
---