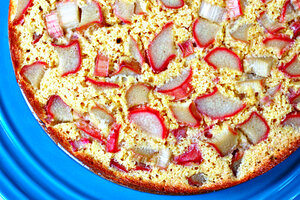 The Garden of Eating
I can barely even keep track of all the wonderful rhubarb recipes I've seen lately.
From this amazingly inspirational round-up on Punk Domestics to several recipes in Marisa McLellan's brand-new cookbook, Food in Jars (including pickled rhubarb stalks – doesn't that sound interesting?), to this gorgeous rhubarb crusted crumb pie from Apt. 2B Baking Co. and this uber comforting milk and honey pudding with stewed rhubarb from Autumn Makes & Does, I've been thoroughly overwhelmed by good ideas.
There are so many that I've been at a loss as to where to begin.
But then I saw this recipe for rhubarb johnnycake pop up on The Hudson Valley Food Network's Seasonal Eating page and I sprang into action! You see, I have been wanting to make this simple yet scrumptious cake since I tasted it at the Woodstock Farm Festival committee meeting a few weeks ago.
The recipe comes from Cheryl Pfaff, an excellent local cook and caterer who has served as the farmer's market manager here in Woodstock for the last few years. Check out her blog, At The Farmer's Market for tons of mouth-watering recipes that feature local, seasonal ingredients. My only complaint was that she did not make two of these cakes since we were fighting over the slices at the meeting....
---