Green olive and bacon pizza
(Read article summary)
The flavors of briny green olives and salty, smoked bacon are a magical pair as a pizza topping.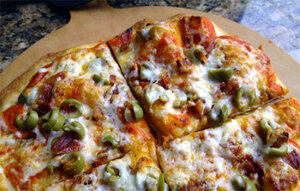 Whipped, The Blog
Have you ever had a "eureka" moment when two things you know well collided on your palate for the first time and made music? A few months ago, we ordered a thin crust pizza topped with bacon and green olives at Marie's Pizza and Liquors (an amazing old school Chicago pizza joint, worthy of its own post). It was life changing. Since then, we have taken our favorite foodie friends back to Marie's to sample the pizza and have worked to recreate it at home. This evening, I came very close.
The briny green olives and salty, smoked bacon are a magical pair – Wonder Twin powers activate! With a crunchy-edged pizza crust and a touch of tomato sauce as a canvas, the combination is complete. Brushing the crust with a little bacon grease and crowning the goodies with a light sprinkling of good quality mozzarella sends the flavors to the moon.
Think I might be overselling this pizza? Perhaps if you hate olives or if you are vegetarian this combination won't entrance you in the same way it has me. If dietary restrictions don't hinder you, set aside a weekend afternoon to knead a little pizza dough. While it rises, sizzle a few strips of bacon and let your mouth water while you create this magical pie.
Green Olive and Bacon Pizza
Makes two 12-14 inch pizzas.
For one pizza, you can freeze half the dough and use half the toppings.
For the crust:
1 (1/4 ounce) package active dry yeast (2-1/4 teaspoons)
1 cup warm water
1 teaspoon honey
2-1/2 cups all-purpose flour
1/2 teaspoon salt
1 tablespoon olive oil
cornmeal, for sprinkling
For topping:
Pizza sauce (from a jar or you can make this sauce.)
6 strips smoked bacon
2/3 cup small, green, pitted olives
shredded mozzarella cheese
---