One dish meal: Dijon sausage and broccoli bake
(Read article summary)
In this case, it's one baking sheet. How to turn up the oven and empty your fridge to create a satisfying meal.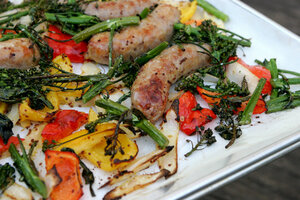 In Praise of Leftovers
We are so blessed to be settling into Bellingham life. Each of us commutes twice a week to Seattle for work, which is turning out to be very doable. And we're living close to five grandparents, toting kids to soccer games and playdates, plotting the next phase of our remodel, and making friends. We are not, like so many people in the world, scrounging for our next meal or scheming about how to get our children health care. We are not victims of political unrest or war. We are not waiting in long lines for fuel or applying for assylum. I'm aware, more and more every day, that our reality is not the world's reality. The fact that I can find time and bandwidth to write about food and community means I've been given so much. I just have to say this every once in awhile.
And I have to say, "One Baking Sheet!!" That's all you need for a great dinner. If you've got parchment paper, even better. Bon Appetit has a great feature on this that's inspiring. I've taken to roasting everything – sausages, fish, prawns, bok choy, broccoli, caulifower. Of course, there are the standards like peppers, potatoes, eggplant, onions, zucchini. I've heard Lynne Rossetto Kasper of The Splendid Table say that when she doesn't know what to cook for dinner, she walks in the door, turns the oven to 425 degrees F., and then opens the fridge. I find myself in a similar pattern these days.
Depending on your ingredients, you can start things at different times (as I do here), separate them on the sheet if you don't want them mingled, or mix everything up and throw it in all at once. An essential tip is that the closer things are together, the more they will steam and not roast. They'll still cook, but without the delectable crispy edges.
---