Tandoori-spiced grilled salmon
(Read article summary)
A spice rub of cumin, coriander, paprika, turmeric and cayenne teams with fresh ginger and garlic to create an aromatic marinade.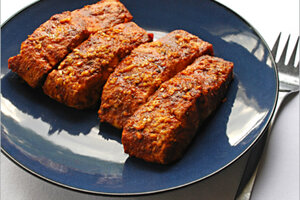 Blue Kitchen
For no good reason I can think of, I often consider grilling a peculiarly American cooking method. It is, of course, not. The basic technique was pretty much born when early man learned to build a fire, and just about every culture has embraced it and created its own spin on it.
But perhaps no other culture has embraced grilling quite like we have. From May through Octoberish, just about every holiday, event or family gathering practically demands outdoor cooking. And so it was this past Memorial Day, in spite of horrendous heat and dire threats of major storms, I planned to fire up the grill for the first time of the season.
Something that truly is peculiarly American (and not just imagined as such by me) is our cheerful willingness to borrow from other cultures, particularly in the kitchen. Search the pantry of any home cook worth his or her salt (kosher, sea salt, fleur de sel…) and you'll find ingredients that would be at home in kitchens in Italy, Mexico, China, France, Japan, India….
Which segues nicely into this recipe. Strictly speaking, a tandoor is a clay oven used for cooking and baking, usually with wood or charcoal in the oven itself. It is particularly popular in India and Pakistan, where meats are marinated in yogurt seasoned with an array of fragrant (and often fiery) spices.
---