Meatless Monday: Asparagus pesto
(Read article summary)
A mild-tasting pesto to help you use up all that extra asparagus.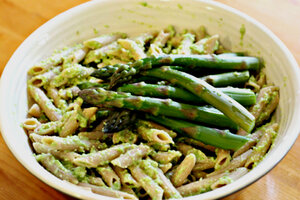 Novel Eats
For years, I used to loath buying too many groceries at once because of how heavy they can get to carry. When you're a full-time pedestrian, it's hard to realistically shop at places like Costco or Sam's Club. If it makes sense, you'll have your own little pushcart, often known as a "granny cart", but even then, it's best to keep the groceries to a minimum. But, ever since we moved to suburbia and have had a car, we have been able to go back to places like Costco and fill up our cart with lots and lots of things (which, let me tell you, is an enormous novelty when you're so used to tiny little grocery stores).
When it comes to big stores like Costco, you're not only buying a lot of different things, you're buying a lot of each individual item. It can be great, but it can also make you wonder how two people can eat that much lettuce or that many potatoes. It's easy to not keep up with food at home and wind up with an extra pound of something going bad. I hate being wasteful, though, so lately I have tried to get a little more creative with the surplus. One such food item is asparagus. It comes in two-pound bags, which is quite a bit for one person to chew on, let alone two. After scratching my head and wondering what I'd make, I finally realized that the perfect solution would be pesto.
What I've learned over the past few years is that pesto can be made out of pretty much anything. Basil, dill, green beans, spinach – you name it, you can probably create a pesto out of it. Because asparagus has such a unique and strong flavor on its own, I had assumed that it would turn out a flavorful pesto. I'm afraid I was quite wrong. What resulted was an extremely mild-tasting pesto that really needed a handful or two of basil or spinach. In the recipe that follows, I am going to include a recommendation to add basil or spinach, but just be aware that I did not do this, so I do not know how it would turn out if you added one of those. Still, this is the exciting part of cooking – experiment until you wind up with a dish that you love. And if you shop at Costco, you'll wind up with a lot of that dish, too. ;)
---