Cream-filled vanilla cupcakes
(Read article summary)
Creating a 'core' in each cupcake makes for a rich, gooey center.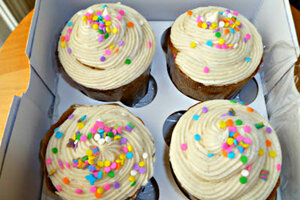 The Pastry Chef's Baking
One of my favorite shows on TV is "Cupcake Wars" on Food Network. Every Sunday night, you can find me in front of my TV, stressing out with the cupcake bakers on how to pass the taste challenge (Round 1), the taste and presentation challenge (Round 2) and creating a display and baking 1,000 cupcakes in 2 hours (Round 3) with 4 baking assistants and a bearded carpenter clad in plaid.
When I first started watching the show, it stressed me out so much I almost couldn't watch it. It reminded me too much of the Culinary Institute of America (CIA) and the daily stress of making desserts in time for the lunch deadline (you don't sit down and eat lunch until the desserts are done, plated, on display and your station is clean). I've since gotten used to the show so now I can actually distance myself enough to enjoy the cupcakes they're making rather than cringing in empathic sympathy for what the contestants are going through.
What does fascinate me about the show is all the flavor combinations they put together. My idea of the perfect cupcake is a well-made, moist, plain (i.e. non-filled) cupcake topped with the thinnest layer of frosting and no decorations that I would otherwise only pluck off and never eat. "Cupcake Wars" goes to the opposite end of the spectrum and the most exotic (or sometimes just plain weird) flavors are baked into the cupcakes, they're filled with "stuff," thickly topped with frosting, and decorated in all sorts of ways. Most of them are probably cupcakes I wouldn't eat but some of them sure look pretty. And some do put together flavor combinations I would probably like.
---