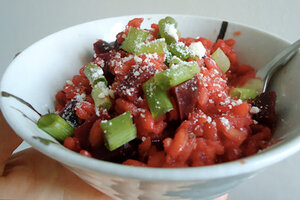 Eat, Run, Read
Three weeks ago I started my Community Supported Agriculture (CSA), resulting in an explosion of vegetables in my life.
A CSA is similar to a farm subscription. Its mission is as follows: "Members participate in their own food supply by committing to share in the harvest of a local grower. By joining a CSA, you express your support for locally grown, ecoganic food, and the farmers who grow it."
Way back in the winter when the growing season began, Emily and I joined and bought one mini-share, (one medium-sized bag of veggies), which we split from June through mid-November. The shares are delivered to her office every Tuesday afternoon.
Our farm grows mostly vegetables and herbs. Other CSA farms operate in different ways: some include meat and dairy, some you buy week by week. I like the subscription method because there's no forethought required on my part. I will receive large quantities of vegetables all summer and fall and that is that. And for the cost of just $7.50 per week, I don't need to buy any produce at the grocery store for 5-1/2 months.
I especially enjoy the creativity required by my CSA. I try vegetables I've never heard of, wouldn't usually buy, or maybe don't even like. I find myself googling phrases like "kohlrabi recipes," "how to roast turnips," "can I eat fennel raw?" and "vegetables on the grill."
So far I've had yellow squash, zucchini, red potatoes, cabbage, lettuce, escarole, garlic scapes, green onions, kohlrabi, basil, Swiss chard, turnips, and lots and lots of beets.
---