Chipotle corn and zucchini salad
(Read article summary)
The summer is ripe with fresh vegetables, so embrace the season with a corn and zucchini salad topped with a spicy chipotle sauce.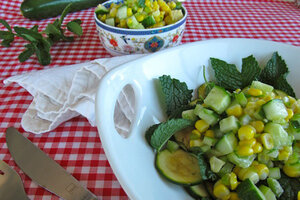 Beyond The Peel
I truly believe things in their simplest state can often bring out the best in something. Like a perfectly clean sun kissed face on a warm summer morning, a single balloon to tell someone you were thinking of them, a walk through the forest with only the sound of your own steps along the gravel trail and birds singing.
This salad is one of those things. Nothing fancy, nothing complicated, just good natural ingredients that are allowed to shine through as summer starts to make its way into our lives. Zucchini right now is at its most tender and delicate. The corn adds a sweet crunch without crowding any of the other flavors. This would also make a great addition to any picnic.
The Chipotle Corn Salad can be made and served on it's own, served as a side dish, or even as a corn salsa for tortillas. Try topping a lovely zucchini or tomato soup with it.
So it probably won't come as a surprise that Corn Salsa also happens to be one of my favorite ways to eat corn.
Chipotle Corn And Zucchini Salad
Chipotle Chili Oil
1/2 cup olive oil
1 dried chipotle pepper, roughly chopped
In a small pan over low heat, gently warm the oil and the chilies. Be careful not to heat the olive oil too much, warm to the touch is what we're after, so as not to ruin the healthy properties of olive oil. Remove from the heat source and allow the chilies to soak in the oil while the soup is cooking. Taste the oil and adjust the spiciness by adding more oil if it's too hot. If it's not hot enough, return to the stove and warm it up one more time. The flavor will develop the longer it sits.
---