Butter poached tilapia with thyme and mixed greens
(Read article summary)
Chunks of fresh fish are poached in butter and olive oil over very low heat with fresh thyme, salt and pepper and served over a simple salad for a quick, cool summer meal.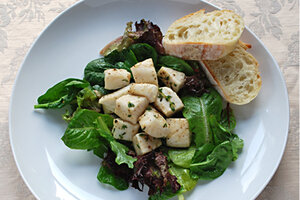 Blue Kitchen
Summer didn't just arrive in Chicago this year. It squeezed its big, hot, sweaty self between us on the couch and settled in, kicking off its shoes, radiating heat and acting like it had no place else to be for a while. In weather like this, you don't want to heat up the kitchen cooking a big, hot meal that no one feels like eating anyway. Poaching in butter isn't necessarily a hot weather cooking technique, but in this case it was perfect for the heat.
I stumbled on the technique when I was looking for more traditional fish poaching methods that I figured might involve white wine and broth. When I read Melissa Clark's informative and charmingly confessional piece on the topic in the New York Times, I was hooked.
In addition to giving the fish a rich, buttery, herbed flavor, butter poaching keeps the flesh moist and tender, something that's not always easy to do with frying or pan searing. And in the time it takes to toss the greens and plate the meal, the cubes of fish cool slightly, making this a perfect summer meal.
The recipe below is a true recipe, complete with amounts and cooking times. But more than that, this is a cooking technique I encourage you to explore. Play around with the herb choices—I've really been enjoying fresh thyme these days, but I'm thinking tarragon might be good. So would parsley or something else. You could even go spicy and experiment with a little cumin or curry (I would start with a light hand here).
I used salad greens. Clark talks about serving the fish over egg noodles. I could even see adding some drained and rinsed cannellini beans to the pan when the fish is nearly cooked through. For the fish, anything not too delicate so that it breaks apart as it cooks will work. As long as you keep the heat low and don't overcook, you'll come up with something wonderful.
Butter Poached Tilapia with Thyme and Mixed Greens
Serves 2
2 6-ounce tilapia fillets (or other firm white fish)
Salt and freshly ground black pepper to taste
3 tablespoons unsalted butter, sliced
3 tablespoons extra virgin olive oil
2 generous teaspoons fresh thyme leaves
A couple of good handfuls of mixed greens
1 generous tablespoon fresh lemon juice
baguette or crusty bread as an accompaniment
---