Simple s'mores pudding cups
(Read article summary)
Serve everyone's favorite outdoor summer treat indoors using individual pudding cups.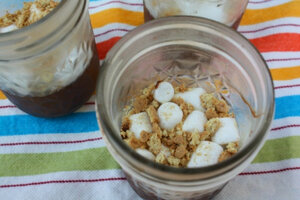 The Gourmand Mom
I yearn for the simple life, a life with minimal clutter and limited complications. Just an uncluttered life focused on family, friends, and enjoying this beautiful world. But sometimes it seems practically impossible to achieve this state of uncomplicated living. We seem to accumulate stuff at twice the rate I can use it, gift it, donate it, or trash it.
Kids amass stuff no matter how hard you try to avoid it. Puzzles and action figures and 5 million tiny legos. And little plastic toys from happy meals and musical instruments and samurai castles. And cars and books and stuffed toys and train sets. And a toy kitchen, a toy workbench, and something called bonkazonks. And coloring books, sticker collections, broken crayons, and cowboy hats.
I'm also to blame for our accumulation of stuff. Because I need matching dishes and glasses. And I needed a sombrero for my Mexican fiesta (which will now live in the basement just in case I want to throw another fiesta). And we couldn't possibly have had a lemonade stand without a proper lemonade dispenser. And my life wouldn't be complete without those little metal nest candleholders and turquoise birdie candles. It all seemed so important at the time, but now it achieves nothing besides making me feel claustrophobic in my own home.
---