Stuffed eggs with pimento cheese
(Read article summary)
Deviled eggs or not, pimento cheese stuffed eggs makes any summer picnic complete.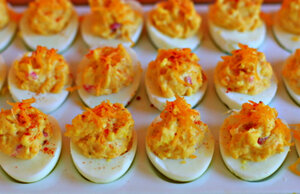 The Runaway Spoon
I don't think a summer picnic would be the same without deviled (stuffed) eggs. At least, not in my family. Or any summer gathering for that matter. Stuffed eggs are a family tradition, and one of my mother's favorites. But I imagine everyone has a favorite version – I personally can't abide the typical version made with pickle relish. So I come up with variations that appeal to me, and hopefully everyone else.
This version combines two picnic favorites, stuffed eggs and pimento cheese. The creamy, rich yolks blended with cheese and pimentos bring both concepts to a new level. And to prove what a family favorite these have become, I'll tell you a story.
I served these at a family birthday gathering, and my nephew walked in the house, spotted the eggs, made a beeline past all his family in the room, and immediately stuffed an egg in his mouth. He quickly realized this breech in etiquette and committed another by saying, mouth full, "Hi, Aunt P.C., can I have a stuffed egg?" In the end, he had several, and the eggs were judged by at least two present as the best stuffed eggs ever.
That's what I call a good egg.
Pimento Cheese Stuffed Eggs
Makes 24 stuffed eggs
1 dozen eggs
2 ounces extra sharp cheddar cheese
1 (2-ounce) jar diced pimentos
1 cup mayonnaise
1/2 teaspoon paprika (plus more for decoration)
1/4 teaspoon garlic powder
Salt and pepper to taste
---