Chilled avocado and cucumber soup
(Read article summary)
Avocado and cucumbers blend with yogurt to make a creamy summer soup.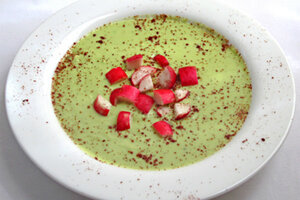 Blue Kitchen
This post was written by Marion Boyd.
Hot, hot, hot, hot, hot, hot, hot, hot, hot, hot. Dry. Hot. Right now in Chicago is a breezy, refreshing 98 degrees F. We are crawling around on the surface of the planet like miserable bugs.
As Terry has sometimes mentioned, I used to address weather like this by making cold cucumber soup. The trigger for this was the legendary cold cucumber bisque we would have at the former Balaban's in St. Louis. My versions varied tremendously, and they were always interesting, but they were never like Balaban's. That recipe was a closely guarded secret – one of those instances when everyone who worked there would get all coy and diffident if you asked about the ingredients. "Oh, I don't know, some people think it has summer savory in it," they would say in a demure tone. "I've heard it might have yogurt in it." Sometimes they would turn it into a question: "Sour cream?"
Like most people, I prefer getting a straight answer, even if the answer is "I'm not allowed to tell you," so the Balaban's cucumber bisque experience also included a faint annoyance factor. But, mmmmmm, cold cucumber soup, so for years I kept trying and trying to duplicate it. In the process, I made a great variety of cucumber soups. Then I just kind of stopped making them at all.
But then came this summer. Farmer's markets full of cukes, but the kitchen so miserable. For several weeks, I've been trying to make a no-cook cucumber soup. Some tasty things have come out of that, but not any that are souplike. They are more like refreshing savory smoothies. Delicious, but to my mind not a soup.
Over the weekend, Terry was out of town, and I embarked on a stubborn frenzy of experiments. To get that souplike consistency, I had to give up on no cooking. After a couple of misses, one near-hit involving mint and dill, and one really ghastly disaster, I got to this: A suave, mild chilly mix of cucumber and avocado, garnished with crisp little chunks of radish.
This soup starts out hot, with a little cooking, on top of the stove, and then some cool-down time in the fridge, and then some zipping around in the food processor. Don't omit the radish garnish – the cold crunchiness is an essential part of this recipe. The dusting of sumac, with its lemony freshness, is also indispensable.
---