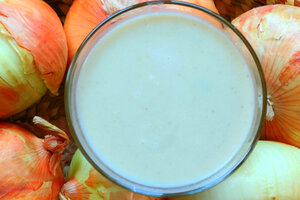 The Runaway Spoon
From April through October, during farmers market season, I rarely visit the produce section of the grocery store. Why bother when there is so much beautiful, fresh, in season produce at the markets. I only seek out a few things that don't grow here: lemons and limes, cherries from Michigan and Washington (I call to see when shipments arrive to get them as fresh as I can).
And Vidalia onions from Georgia. I love Vidalias. Vidalias are sweet, with just enough bite. They make the best caramelized onions, one of my favorite kitchen staples. I buy Vidalias in bulk, thinly slice them and let them gently caramelize in the slow-cooker then freeze Ziploc bags full. I store Vidalias in canvas bags in the pantry for when they are out of season. I am a Vidalia hoarder. And obviously, I cook with them.
In the summer, I love a creamy cold soup when the weather is so hot and steamy. Leek and potato vichyssoise is one of my favorites, and simple to put together. Once I have a big bowl of chilled vichyssoise in the fridge, I am set for several cooling meals.
---