Spicy grilled pork chops with fruit salsa
(Read article summary)
Heat up the flavors, not your kitchen, with outdoor grilled chops and mango cilantro salsa.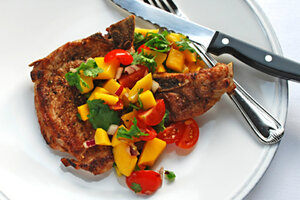 Blue Kitchen
Harry S Truman famously said, "If you can't stand the heat, get out of the kitchen." I took the 33rd president at his word recently, although probably not as he intended. When the temperatures finally (and temporarily) dropped below dangerous levels here in Chicago, but were still high enough that I didn't want to heat up the kitchen, I fired up the grill instead.
I fired up our taste buds too, although only a little, with these slightly spicy pork chops seasoned with chili powder, cumin and cayenne pepper. Then I piled on color and flavor with a quick, lively salsa. Served with a side of refried beans (OK, we heated up the kitchen a little) and a salad, the chops made for a delicious weeknight dinner.
Pork plays well with fruit flavors, something I've relied on more than a few times here. And it picks up a wonderful smokiness on the grill. Combine those two qualities and you take it to a whole other level.
For the salsa, I started with mango. Native to the Indian subcontinent, mangoes have a silky texture and a taste described as a delicate blend of peach, pineapple and apricot. That said, the whole is more than the sum of the parts – rich, fragrant, and exotic. To the diced mango, I added tomatoes (also a fruit, but only by a technicality to me), cilantro (if you're among those who can't stand it, substitute parsley), red onion, and jalapeño pepper.
But I encourage you to play with your salsa. I used cherry tomatoes, but a regular tomato would work too. Don't have red onion? Substitute scallions or chives. For the pepper, go as fiery or mild as you like. The jalapeño I had this time was not spicy at all, even though I kept some of the seed and the ribs –you could even substitute a little green bell pepper for the flavor alone, if you like. You can also add a little cayenne pepper if you want to heat things up a bit.
Spicy Grilled Pork Chops with Mango Cilantro Salsa
Serves 4
For the chops:
2 tablespoons olive oil
1/2 teaspoon chili powder
1/2 teaspoon ground cumin
1/4 teaspoon cayenne pepper
4 bone-in pork chops (I used pork loin rib chops)
salt and freshly ground black pepper
---