Cookbook review: The New Middle Eastern Vegetarian by Sally Butcher
(Read article summary)
If you are tired of your go-to vegetarian meals, try a visit to "Veggiestan."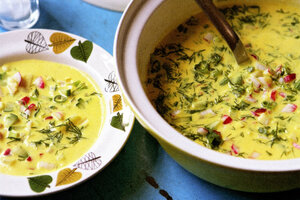 Interlink Publishing
While I was living in a town in eastern Kazakhstan, my next-door neighbor would invite me over to chat in her small, mostly sky-blue tiled Soviet-styled kitchen as she chopped and pounded and scraped and sloshed together all manner of exotic ingredients.
Whatever meal she was preparing would generally last her the week. Her wizened hands effortlessly moved from one task to the next as I sat there using up my limited Russian vocabulary, asking her questions and trying to follow along as she described what she was doing.
Her summer specialty was a Russian chilled dill soup, perfect for Kazakhstan's sweltering summers, made from kefir (fermented mare's milk), cucumbers, and radishes. It was one of the few dishes she made that was meat-free, and I felt fortunate to have been introduced to it through this neighbor. Though she thought it was strange that I was a vegetarian, she was my guide on nonmeat foods to try.
When I saw that The New Middle Eastern Vegetarian: Modern Recipes from Veggiestan by Sally Butcher had a version of the Russian inspired shorba (Arabic for soup) I was both reminded of my neighbor guide, and eager to dive in on recipes from an area of the world, such as Kazakhstan, that I hadn't previously considered veggie friendly. In fact, I learned, despite the traditional meat on kabobs, meat is used mostly for flavor or for special guests across the Middle East.
Butcher is the London-based owner of Persepolis, a Persian deli, which she runs with her Iranian husband. This is her second cookbook. Her first, "Persia in Peckham" (2008), drew wide acclaim. In "The New Middle Eastern Vegetarian," Butcher quickly shows her love for Middle Eastern flavors from Uzbekistan to Turkey to Iran. Leafing through the book, I was transported across the region with stories, fun facts, and recipes making use of rose petals, saffron, and tumeric.
---