Strawberry banana bread
(Read article summary)
Nothing goes together like strawberries and bananas, so add a twist to the classic banana bread recipe and bake it with a fresh strawberry purée.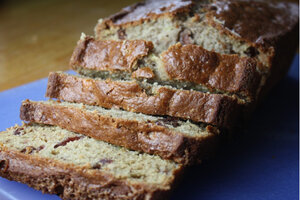 The Gourmand Mom
Back in what feels like another lifetime, I was a second grade teacher. One portion of our daily routine included an activity we called Writers' Workshop. It was a time of the day devoted towards writing, where my students could work independently or collaboratively on various forms of written expression. While they worked, I'd meet with individual students to help walk them through the editing process, while weaving lessons about writing technique, language, and grammar into our little discussions. Some students worked on personal narratives, others on poetry, and others on persuasive writing.
And then there was the group of boys who'd formed a rock band and spent their time during writers' workshop writing song lyrics. Now, this rock band was no casual arrangement. Though not a one of them played a musical instrument, they took the idea of their band quite seriously. These boys waited all day to work on their writing. They put careful thought into their choice of words and worked cooperatively to fine tune their performance. I was feeling like a pretty awesome teacher for being able to get my students so actively engaged in the writing process and so motivated to develop their writing skills. And that's right about went things went sour with the band.
You see, Diego kicked Joshua out of the band. It had something to do with not fully committing to his dance moves. Seriously. Joshua was crushed. Willis tried to remain neutral, but it was clear that he was also unimpressed by Joshua's moves. I intervened and brought peace back to the band long enough for them to perform the song they'd been working so hard at.
It went something like this:
Oh, when am I gonna be a man?
I wanna be a man!
I'm gonna get a wallet.
---