Meatless Monday: Chilled mango cucumber gazpacho
(Read article summary)
This smooth, chilled soup makes a refreshing first course during a summer meal or an eager partner to a nice fresh salad.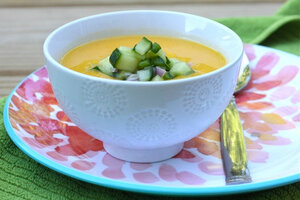 The Gourmand Mom
This past weekend, I had the pleasure of escaping with my husband to the most charming little place in the Catskills. We'd gone to celebrate the first wedding anniversary of my husband's beautiful sister at the location she and her husband eloped to last August. Dear old friends, family, and new friends gathered at The Roxbury Motel for a truly blissful weekend.
This place is a polished gem with so many facets that you can't help but gasp as you view each new angle. It's hard to put into words and pictures don't do it justice. It's just magical. Every space on the property has been tended to with the same special care a momma gives her baby. You can feel the love in every unique little detail. During our time there, we encountered a family with two small children, a group of four women celebrating a bachelorette weekend, a couple on a romantic getaway, and a pair of outdoor sports enthusiasts. Oddly, The Roxbury Motel provides the perfect accommodations for each of these occasions. It's definitely a special place.
My husband and I stayed in the room which is called 'Maria's Curtains'…as in the Maria from "The Sound of Music" and the curtains she used to create play clothes for the von Trapp children. Our room was swimming in the curtain's pattern, from the bedding to the hand stenciling which crossed from the walls to the ceiling, to the custom tiling around the massive soaking tub. The lamps were made of brown paper packages tied up with strings. And two fantastically tiny, bright copper kettles sat on a small corner table. I'd be lying if I told you I didn't spend half of the weekend singing "My Favorite Things" in my ridiculously out-of-tune voice.
---